General Info
We hold a waste management collection permit (Reference NWCPO-15-11692-01) which covers us to collect in Cork County and Cork city which allows us to collect specific waste EWC coded categories, some of which are listed below
Wastes from Agriculture
Wastes from food processing
Construction and demolition wastes
Municipal wastes
We have a wide range of fleet from
Articulated Tankers ranging in size from 28 cubes to 32 cubes
Articulated tankers with vacuum pumps
Articulated + Rigid tippers
Tractors and dump trailers
Jet Vacuum tanker with high powered jetting system
To ensure all Environmental aspects of the business is covered to the highest standard and no stone is left unturned and that we are in full compliance with all relevant  environmental legislation let it be record keeping, annual reporting etc is carried out by an Environmental Consultant with a background in Environmental Science.
Water
With our four tankers we are able to provide a top quality service day or night to get liquid shifted. We have a proven track record working with the likes of Staunton Foods Ltd, Irish Water, Bandon WWTP, ABP meats and Carbery foods just to name a few.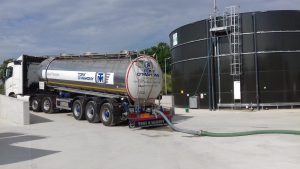 Waste
Septic tank cleaning is required from time to time and here at Tony O Mahony Agri + Plant Hire we provide this service through our vacuum tanker which is a very versatile machine with two separate compartments, one for clean water and the other for dirty material. This machine also has a high powered jetting system to which can be used for jetting blocked drains, sewer lines and general pipe work.
All wastes extracted from septic tanks are delivered to authorised disposal facilities in accordance with our waste collection permit and a full desludging docket is provided to the customer upon completion.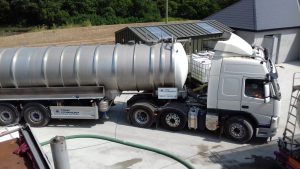 Sludge and Agriculture Waste
With our top of the range fleet and under our permit we have the capability to transfer sludge and agriculture waste wherever is needed. The Articulated vacuum pump tanker  is a huge asset as it can just go into any yard/site and start vacuuming straight away. All loads are recorded in a docket book and dockets are passed onto the customer, the facility receiving the sludge and one for our own records. Before each job a copy of our permit is given to the customer for their own records.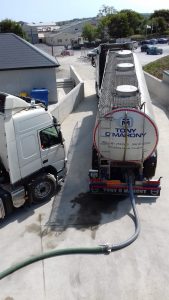 Construction + Demolition
Tony O Mahony Agri, Plant Hire + Haulage is licenced to transport Construction and demolition waste under our permit NWCPO-15-11692-01. Our fleet of Rigid Volvo tippers, articulated tippers, tractors and dump trailers allow us to be able to get in and around sites efficiently with safety at the forefront of each job.
All material transported of site is fully traceable and disposed of at licenced facilities in accordance with our permit.
Some of the clients we deal with are HG Construction and Murnane & O'Shea Ltd Building Contractors.